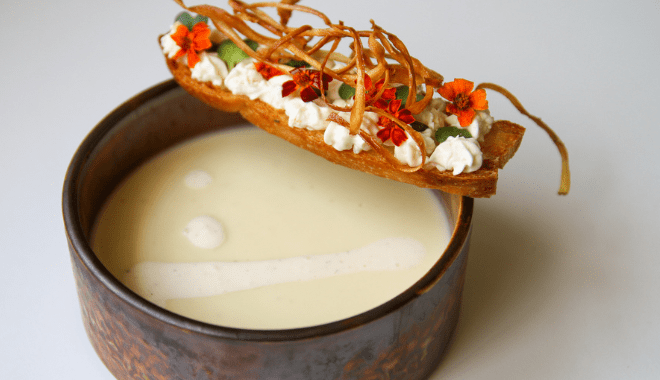 Try a Chef favorite, Parsnip Soup With Vanilla Bean Crème Fraiche!
INGREDIENTS
2 T olive oil
1 ea. medium yellow onion, small dice
4 ea. cloves garlic, sliced
1 ea. bay leaf
3 ea. sprigs of thyme
3 cups parsnips, peeled and chopped
40 oz water
Salt to taste (approximately 1½ T)
1 cup cream
METHOD
1. Preheat a medium nonreactive pot over medium heat. Add the olive oil. Allow it to heat for a moment then stir it around to coat the bottom of the pan. Add the onions, garlic, bay leaf and thyme. Turn the heat to medium-low and sweat the onions stirring occasionally until soft without browning.
2. Add the parsnips covered with the water. Bring to a simmer and allow to cook uncovered for about 45 minutes or until the parsnips are soft.
3. Remove the bay leaf and thyme then add the salt and the rest of the contents of the pot to a blender and puree until smooth. Stir in the cream and adjust the seasoning if necessary.
INGREDIENTS FOR VANILLA BEAN CREME FRAICHE
4 oz creme fraiche
½ vanilla bean
1 tsp salt
Water to consistency
METHOD
1. Slice the vanilla bean in half. Scrape the bean and add the contents to the crème fraiche. Save the outside of the vanilla bean for another application. Whisk the salt, crème fraiche and vanilla bean together. Slowly add the water and stir until it is a syrupy consistency.
2. Add a spoon or two of crème fraiche to each bowl of soup.
METHOD FOR CRISPY FOCACCIA
1. Slice the focaccia evenly, lightly brush with extra virgin olive oil and bake in a preheated oven at 350 degrees until a light golden brown, approximately 10 minutes.
INGREDIENTS FOR LEMON WHIPPED RICOTTA
¾ cup ricotta
1 tsp salt
Zest of ½ a lemon
½ tsp black pepper
METHOD FOR FRIED PARSNIPS
1. Peel parsnips with a vegetable peeler and fry in a 280-degree fryer constantly stirring until the bubbles slow and the color darkens on the parsnips—season with salt and pepper.
Featured by Catersource in the Fall 2022 Issue.