Thanks for your interest!
While we do identify as a catering company, a hospitality group, a FRIENDOR and often a one-stop-shop for clients…above all else we are a family. We are a family of brands and a family of top-tier event professionals. Our people are truly our best asset and we are focused on creating an unparalleled culture at Butler's Pantry to foster the best, the brightest and the most passionate in the industry.
–Richard Nix Jr., President
Full Time Employee Benefits
Lunch Provided Daily
Company Matched 401k Program
Quarterly Incentives
Holiday Party
Service Team Perks
Hiring & Referral Bonuses
Flexible Hours
Quarterly Incentives
Holiday Party
Invitation to BP Team Appreciation Events
Work at Fun & Trendy Events
Mission & Culture
Providing our Clients, their Guests and our Business Family with "every reason to celebrate"!
Curious about our community involvement? Butler's Pantry has been able to give back to some fantastic local organizations because of the continued community support of the business for the past 50+ years. In 2016, we started our 'Full Pantry | Full Life' initiative where every 50 guests we serve, we put $5 back into our community. Take a look at some of the local organizations close to our hearts, here.
Learn more about our culture and core values, here!
Address
1414 Park Avenue
St. Louis, MO 63104
View Map
Connect
Team Member Review
"It sounds silly, but I believe not many people can honestly say they enjoy their jobs. Part-time jobs especially come with a traditionally negative connotation as they tend to be another exhausting means of making ends meet or earning extra spending money on top of a normal 40-hour work week job. However, I have found that more times than not I am willingly giving up days on my weekends to "work" with Butler's Pantry. It is not so much "work" per say as I have gained some life long friends along the way and every weekend I get to spend time with them. Not to mention my weekends are mostly spent in some of St. Louis' most spectacular settings. When you add good company and a great atmosphere, working truly becomes secondary, yet the job still maintains all of the benefits of being a part-time job. Weddings, Auctions, Galas, Golf Tournaments and Stanley Cup parties are just some of awesome events I have been able to work over my years. When you surround yourself with great people, a beautiful setting, and a fun atmosphere it is easy to make what is traditionally a not-so fun part-time experience into one that I willingly sign up for nearly every weekend." – Patrick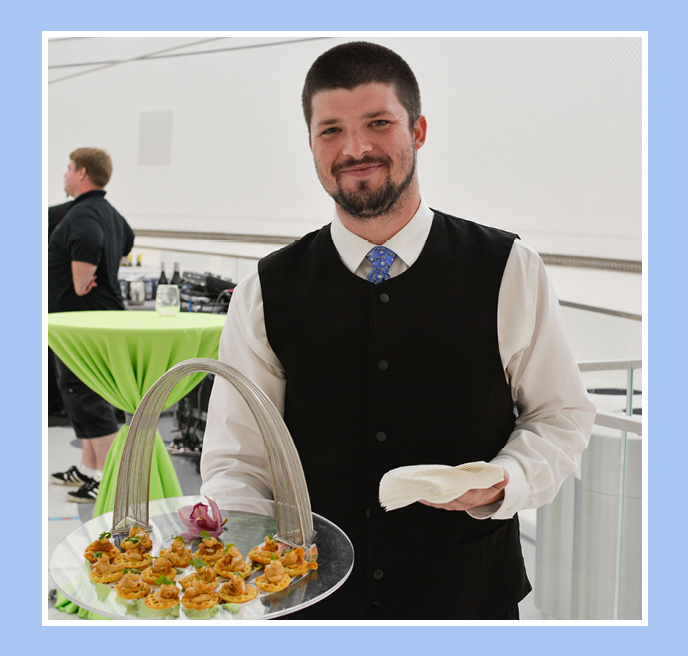 Interested in joining the BP team? Our diverse team of passionate individuals is capable of providing everything necessary for a flawless event. Apply for open positions below!