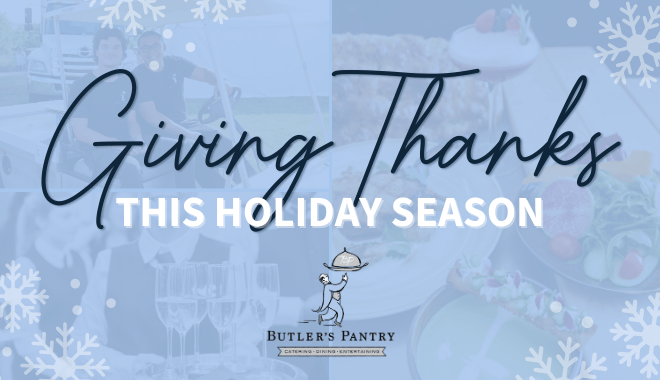 I believe the next 6 weeks are always the best 6 weeks of the year. The weather becomes a little colder, the trees lose most of their leaves and our lawns turn brown launching another Winter Season! During this period, we not only celebrate Thanksgiving but rejoice over the many December holidays being observed culminating with year-end revelry on New Year's Eve and New Year's Day. This Season allows us the time to give thanks and celebrate with family and friends. Giving Thanks might be writing a note to an old friend, or toasting those that keep us safe, remembering those less fortunate than us, or it might even be as simple as counting our blessings. Regardless of how we give thanks, at Butler's Pantry we are extremely thankful for those we work with every day and those we serve every day. While we strive throughout the year to keep this a guiding principle, sometimes the hustle of the days, weeks and months can blur our best intentions. NO time like the present to remind our BP team and patrons of the many things we accomplished together this year!
In addition to adding the talented 23 City Blocks team, Butler's Pantry has added more than 150 new full & part-time members of the crew.  This group of new hires joined an already talented and seasoned group of hospitality professionals. While we were already anticipating a busy 2022, when April hit our business went into overdrive.  Many of the squad were called upon to work across departmental lines, tweak procedures, and find new ways to innovate and to be more efficient.  This, in turn, allowed us to execute even bigger and more elaborate special events throughout the year.
As the year progressed, our entire team solidified on delivering more than promised, creating, producing and executing hundreds of weddings, fundraisers and social galas throughout the region. This included many amazing events at our venues, Palladium Saint Louis and The Coronado. We were also fortunate enough to continue the successful legacy of the Caramel Room through the end of 2022. As though this wasn't enough, our team was also preparing to introduce two new venues to our community. 18Rails The Venue @ City Foundry opened in July offering a unique and special vibe to the thriving mid-town St. Louis. Just a few short months later, The Reverie was introduced to West County. As part of restructuring the Chesterfield Valley, The Reverie will take it's place next to The Factory as foundations to a new entertainment area known as The District. With completely different impressions both settings offer something new to the entertaining landscape and we look forward to introducing them to STL.

Very few of the great things we have accomplished together could have been done without a re-focus on company culture. We made an investment in a management program created by a friend and fellow caterer in Colorado known as MIBE (Make It Better Everyday) and in implementing the Entrepreneurial Operating System (EOS) to clarify our goals and path for the entire company. This also led to our quarterly "pod" casts that allow us to cascade how we are doing and where we are going to every team member. And while work-life balance and culture are crucial, no matter how you package it, benefits & compensation will always be an important retainer of top talent. We are driven to ensure our teammates perks and pay are at the forefront of our industry. Our semi-annual rewards program, 4% matching retirement contributions, premium healthcare and referral bonuses are just four of the many ways we are investing in our team-members.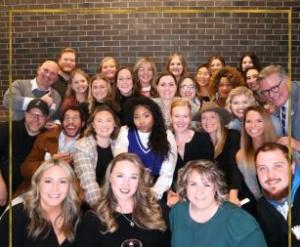 I have been blessed to see this company evolve and grow through the ideas and efforts of its wonderful employees. We continue to value not only the opinions and ideas generated by every member of our team, but most of all, the relationships we have with each one of you. In closing, let me give thanks to all our BP crew and BP clients for making 2022 an incredible year for our 56-year-old firm. Wishing all of you a very Merry Holiday Season and a Healthy 2023.
Cheers – RL Nix