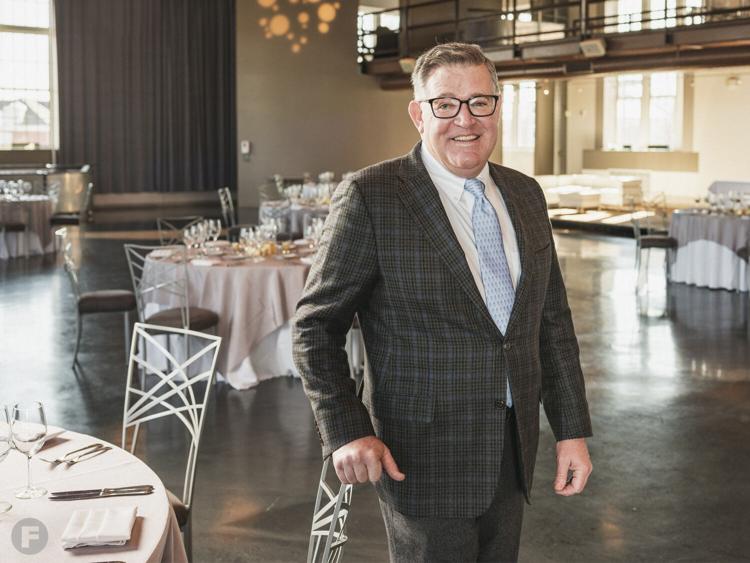 Since 1966, Butler's Pantry has catered events for every occasion, big and small, in St. Louis. Second-generation president Richard Nix Jr. has spent his entire career growing the business – then, in a matter of days last year, the industry shattered. Nix and his team were flooded with hundreds of event cancellations and postponements due to the COVID-19 pandemic.
Catering companies near and far felt the impact, as clients paused weddings, corporate events and other gatherings. "The effect on Butler's Pantry was into the millions of dollars," says Nix. Fortunately, the company was able to reschedule approximately half of the events planned for 2020, while others cancelled, downsized or went virtual. Nix says many dates have already been booked for summer and fall 2021, and even more are planned for 2022.
Butler's Pantry pivoted to catering virtual events early on in the pandemic. How did that work? When your back is against the wall, you come up with new ideas. One of our first virtual events [in 2020] had been planned as an in-person event for almost a year, and [the clients] had about 40 days to make the change to virtual. We were able to deliver close to 300 meals to 110 different locations [for them]. Throughout the year, we altered our virtual offerings, including drive-in events. I think for many events, whether they're weddings or nonprofit or corporate events, we'll have some sort of a virtual component [moving forward]. And it's been fun to talk about things differently than we had. We were so busy at one point that we weren't really getting to know our team. I think we've come together much better, and I would say that's definitely a silver lining.
You also launched Entertaining Now, a series of small catered experiences, last year. How did that come about? It was probably June when we realized, if we're going to do anything this year, it's going to be much, much smaller. Entertaining Now is an effort to customize packages around four to six [guests] and eight to 10 [guests] for delivery. We really started it with Easter, because at that point, restaurants were closed for the first time and we knew that people still wanted to get together. That's how it got started, and it's been our effort through the holiday season and into the new year.
Buffets have always been a popular catering option at events. Is there a way to safely continue offering them post-pandemic? I'd say the buffet will be around, but I think it will be around in a different format. Those unattended large displays of food – they're probably gone forever, which is good. You'll start seeing more individual portions, you'll see more service behind [them] and probably [a change in mindset] to "hey, let's not fill the buffet up for an hour; let's fill the buffet for the next few minutes." You'll definitely see an increase in service and increased attention to detail, and those details are keeping the food safe, keeping the guests safe and keeping the team members safe, too.
You've dedicated your career to the catering industry. How do you see it evolving? I think [there's an urgency] to improve food safety, physical plant safety and employee safety in our industry. That's a really good thing that has come out of this. I think one of the silver linings is that smaller events are here to stay. People can socialize and have a more genuine experience when you're talking about 10 or 20 people versus 200 people. And I think people are going to utilize their homes more; we've seen people utilizing their outdoor [areas] like there's no tomorrow. There's definitely fun and creative ways to bring smaller groups together.
For more information, visit butlerspantry.com