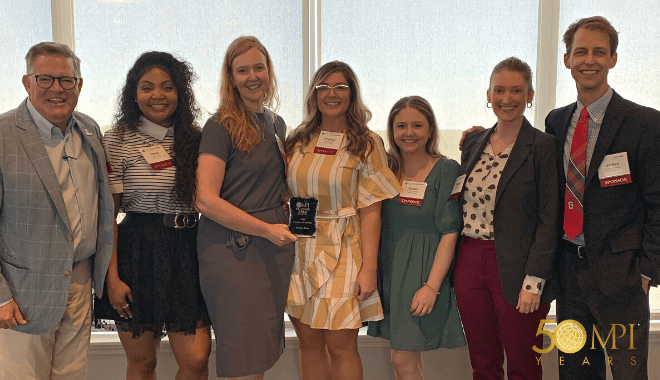 Header image left to right: Richard Nix, Jr., President; Tasha Irving, Director of Sales & Catering; Bridget Bitza, VP of Sales; Chelsea Karg, Director of Event Production; Coleen Donovan, Director of Sales; Maggie Barton, Chief Operating Officer; Jordan Chitwood, Chief Revenue Officer.
May 16th, 2022, members of the MPI St. Louis Area Chapter gathered at The Chase Park Plaza for EduCon 2022 — a full-day educational conference for the meetings and events industry. At the conclusion of the day, attendees were invited to a ceremony to celebrate the organization's 50th Anniversary and to honor those who make a difference within the chapter.
Our Vice President of Sales, Bridget Bitza, was inducted into the St. Louis Chapter Board of Directors for the second year AND accepted an award for Supplier of the Year!
As sponsors of EduCon 2022 – and proud team members of Bridget – several colleagues were in attendance to surprise and show support as Bridget accepted this award. Our team is fortunate to have such a hardworking and gracious professional like Bridget, who truly lives hospitality every day!
Meeting Professionals International (MPI) is a global organization that provides those in the meeting and event industry with innovative and relevant education, networking opportunities and business exchanges. The St. Louis Area chapter now has over 265 dedicated members who work towards achieving success in both their personal lives and career.