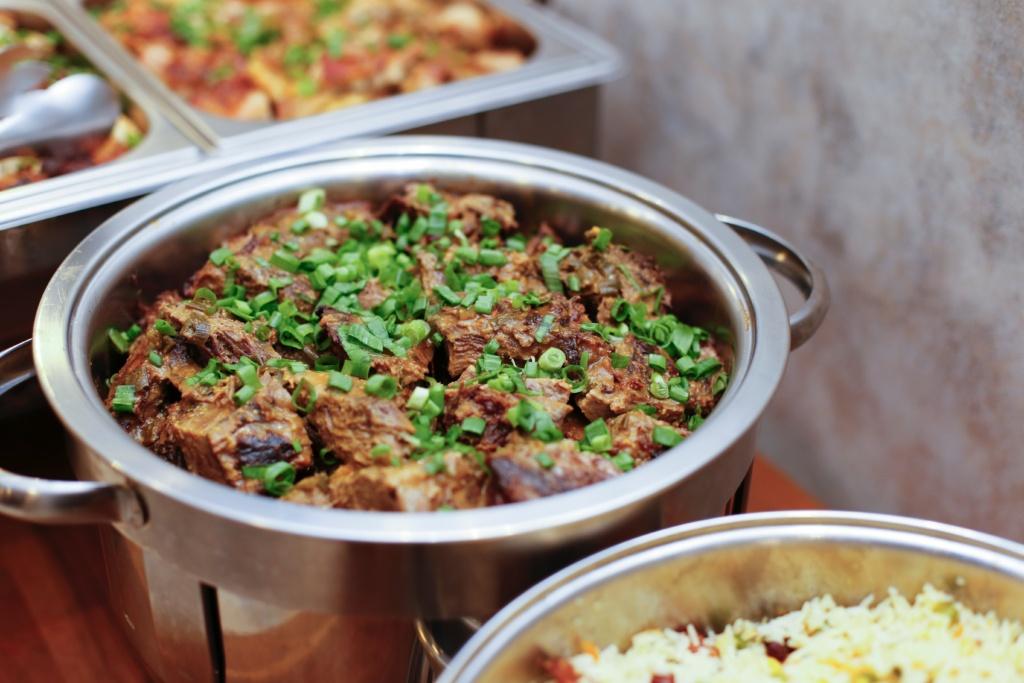 We all know that St. Louis has a lot to offer when it comes to tasty lunches. There's a long history of outstanding food here in the Lou — from toasted ravioli to gooey butter cake, we've got a lot of mouthwatering options unique to the area, and we know how to enjoy a good meal. With all the delicious options around town, it's not hard to find great lunch catering in St. Louis.
And when you're planning a meeting, event, or just trying to say thank you to your team, lunch delivery in St. Louis is a fantastic way to mark the occasion. Food is the centerpiece of most good parties, and corporate events are no different. 
Here, we're going to walk you through all the ins and outs of lunch catering in St. Louis. We'll start with the various styles of lunch delivery, and then we'll talk about the different occasions where those kinds of meals are appropriate. After that, we'll take you through some tips on how to find the best caterer for your event — all the questions you need to ask your prospective caterer are in that section. Finally, we'll give you some more details about our offerings here at Butler's Pantry and what you can expect when you order lunch delivery from us here in the heart of St. Louis.
Let's dive right into it.
Understanding Different Types of Catering
Before we get into the specifics about your choices for lunch delivery in St. Louis, let's get a foundational understanding of the types of catering you could opt for. Then, we'll go over the different scenarios that are best suited to lunch catering in St. Louis. Making sure you're choosing the best kind of catering for your event is an important consideration — you want your guests to know what to expect and to have all their needs met. Buffet, boxed, plated, or food truck catering are all great options, but not all of them are the best choice for every situation. 
We'll start with the catering options that allow for lunch delivery in St. Louis.
Buffet-Style Catering
You could have a buffet with service included, but for business lunches, a drop-off buffet is usually the more logical way to go. You can select your ideal menu and then set the food out for your team or guests to choose from. The pros of buffet-style lunch catering are many — people can customize their own meals to include as much or as little of the different options as they desire, the elements of the meal can be adventurous and exciting, and you can choose either hot or cold food for a buffet. There's a lot of variety on display with this style of lunch catering in St. Louis.
However, there are also a few drawbacks. One is that ordering the right amount of food might be a little tricky if you've never done it before. Plus, you'll have to find space to lay out the different trays where people can go through the line without getting too crowded. 
In spite of those few concerns, a buffet-style lunch delivery can bring variety to the lunch rut, and it's a great choice for a lot of business settings.
Boxed Lunch Catering
This is perhaps the most traditional business lunch catering option in St. Louis. With boxed lunches, you'll get individual portions for each guest. They typically include a sandwich, one or two sides, and potentially a dessert, all neatly contained in a box or other type of container. All you have to do is hand out the correct lunch to each person. If your group is small enough, you can usually get them labeled, and if there are different choices for the sides or main dish, they can have their preferred option, too.
The points against box lunch catering, though, include that they're not usually very exciting. They tend to be formulaic and stale — you know exactly what you're going to get, and it will get the job done, but most people don't get excited about a boxed lunch. 
Plated Service Catering
Although unusual for lunch catering in St. Louis, a formal, plated noontime meal isn't completely unheard of. This style of catering has servers taking care of your guests, and they receive one of the meals you preselect brought to them at their table. 
Most offices aren't going to opt for plated lunch catering because of that high level of formality. Events best suited to this style are stately, elegant, and reserved. This is the kind of service you'll see at a fancy wedding, not an impromptu office lunch. However, if you're trying to impress a large group of associates used to the finer things, then a plated service might be your best bet. Just keep in mind that it's far from the first choice for most organizations.
Food Truck Catering
This is likely the least traditional way to get lunch delivery in St. Louis, which makes it extra exciting for some folks. You can arrange for a food truck (or several of them) to make an appearance outside your office, letting your team or guests choose their lunch from their menus. The specifics of this sort of arrangement will vary between food trucks, but the general outlines are all like this. 
The main benefit of food truck lunch catering in St. Louis is that the food is often more unique and unexpected than the other options for getting lunch to your team. You can have authentic cuisine from local experts at your fingertips. The downsides, though, are also apparent. If you don't have enough food trucks to cover the needs of your team, they could be waiting for a long time, since food trucks are usually fairly small operations. They might also have a more limited menu, and not all dietary needs are catered to. Plus, you have to have enough space for them to park in a convenient location. Not all office locations are equipped for that.
Top Situations for Lunch Catering in St. Louis
It's easy to get caught up in the fast-paced corporate world, but every so often, it pays off big time to stop and enjoy a tasty lunch. We've put together some of our favorite reasons to get lunch catering in St. Louis in the following sections. From big parties to run-of-the-mill days around the office, there are tons of occasions perfect for ordering lunch delivery. Let's start off with a bang.
Celebrations 
Whether it's for the holidays, a sales milestone, a retirement, or any other big event around your office or the world, there are always plenty of reasons to celebrate. Getting a delicious lunch as part of the festivities is one way to bring the team together and make it feel like a real party. It takes the pressure off of lunch for the team, since they won't have to bring anything or make any decisions, and you can treat them to something tastier than their typical PBJs. 
Big celebrations are times to pull out all the stops and make sure everyone is having a great time. Exciting them with food they wouldn't otherwise get is one way to win their hearts — and their stomachs!
Team Appreciation Events
Make sure your employees know you care about them. Even when there's no special occasion, you can order lunch delivery in St. Louis. Making it a regular feature of the office can be a big benefit to some team members, as they'll be more excited to work for a company that feeds them every so often. Office perks add up, and lunch catering in St. Louis could be a great pick-me-up for a hardworking team that could use a little extra recognition. 
Wellness Programs
Promoting the wellbeing of your team comes in lots of different forms. If that's a priority, then feeding them a healthy lunch at regular intervals is a great step to take in that direction. Work with a local St. Louis caterer to craft a menu that will delight their taste buds as well as benefit their overall health. Doing so could help them form healthy habits, introduce them to new favorites, or just help them get an extra serving of fruits and vegetables. Plus, healthy lunches can help them be more productive in the afternoon.
Important Meetings
Making sure everyone stays energized while you discuss vital topics and make crucial decisions has big benefits. One way to take a step toward that is through lunch delivery in St. Louis. This is especially true if the meetings are going to stretch over several hours. Adding in a catered lunch can be a great way to break up the day and give your team a much-needed second wind. That way, they can focus on the work at hand rather than an empty stomach. 
Hiring a Caterer: Essential Questions to Ask
Once you've set an occasion and chosen the style of catering you'd prefer for your event, it's time to decide on a vendor.
Find out if the caterers you're considering are local. Lunch delivery in St. Louis is best when the company understands the community. Once you've established that, you should ask about how they prepare the food and what ingredients they use. You should only order from caterers you trust to use high-quality materials and food. Plus, if you have any team members with allergies or other specific dietary needs, you must be sure there won't be any cross-contamination.
Another important concern is what kind of preparations you need to make at your office or event space. Know exactly what you will be on the hook for and what the lunch delivery service is providing. Will they have plates, utensils, or napkins? Will you be expected to provide those? Dropping the ball there could spell disaster for your event. You should also work out any logistic or timing concerns.
Finally, make sure you have the financial element down. Know how pricing works, when payment is expected, and what kinds of payments are accepted. Having this all agreed upon ahead of time can make the experience a lot smoother for everyone involved.
Lunch Catering in St. Louis: Your Options at Butler's Pantry
Here at Butler's Pantry, we pride ourselves on our long history of providing the St. Louis community with creative, delicious catering options — over 55 years of it! We want our clients to have the best experience possible, and our lunch catering options reflect the care and attention we put into our product.
Here are your different corporate catering options from Butler's Pantry.
Cold Lunch
A big upgrade from your typical boxed lunch fare, our cold lunch buffets are a fresh way to switch up your standard corporate lunch delivery in St. Louis. You get to choose a salad, some sides, one main course, and a set of desserts.
We include biodegradable trays and utensils, plus the buffet style cuts down on the amount of packaging when compared to a traditional boxed lunch situation. If making an eco-friendly choice for your lunch catering is important to you and your organization, then our lunch delivery is a natural fit for your values.
Hot Lunch
Our hot lunch corporate buffet delivery is along the same lines as the cold lunches we described in the previous section. The major difference is, of course, that the main entrees are hot. Choose from mouthwatering options like grilled Atlantic salmon or southwest chicken, and your team is sure to be super satisfied.
Enhancements
In addition to the core offerings we detailed above, we also have some other items that you can add on to your lunch delivery to take the experience up a notch. Both the hot and cold buffet packages feed 10-12 people, so you might need a little extra food for a slightly larger group. Of course, if you have many more mouths to feed, you can order multiple collections, but enhancements can fill a small gap. They can also accommodate different dietary needs if you require more options to make sure your whole team is taken care of. 
Order your perfect lunch catering service today.
Now that you're fully aware of how much of a benefit lunch delivery can be for your team, you should be ready to contact your preferred catering services and get the ball rolling on planning a fun event for your team. As always, if you need a place to start looking for a premium caterer in the St. Louis area, our team here at Butler's Pantry would be happy to help. We look forward to hearing from you!