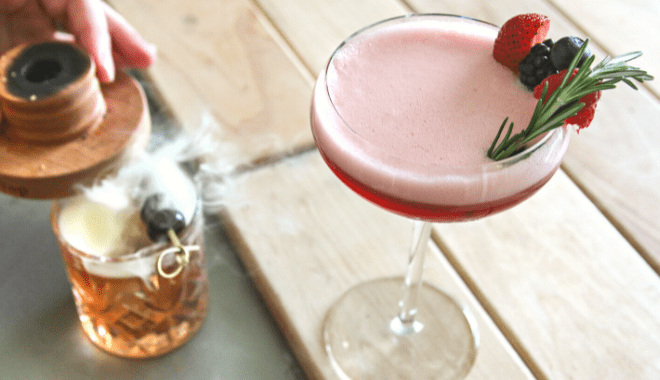 Looking for a signature cocktail for your next gathering? Enjoy these delicious berry inspired recipes that you and your guests will love!
Rosemary Quattro-Bacca Club
Ingredients
1.5 oz Bombay Bramble Gin
.5 oz Chambord Black Raspberry Liqueur
.75 oz quad-berry Syrup (blackberry, raspberry, blueberry, and strawberry)*
.75 oz fresh lemon juice
.5 oz egg white
3 dashes Fee Brothers Rhubarb Bitters
2 ea. fresh rosemary sprig
Garnish: Half each strawberry, blackberry, raspberry, a full blueberry for the rim of the glass and a fresh rosemary sprig (smacked to release the aromatics)
Method
Combine all ingredients including rosemary sprigs into a shaker and dry shake (no ice) vigorously for 10 seconds to froth the egg white. Add ice and shake for an additional 20 seconds.

Remember we are shaking to wake the cocktail up, not put it to sleep so put some umph in it.

Strain the cocktail through a fine mesh strainer into your favorite cocktail glass and enjoy. Cheers.
*Quad-Berry Syrup
You will need equal parts water, sugar and frozen quad-berry fruit blend.

Start by boiling the water and then add the sugar, stir until fully dissolved.

Add the frozen fruit and turn the temperature down to leave to simmer for 8-12 minutes or until the fruit becomes very soft and delicate.

Once the fruit is soft and falls apart easily pour the entire mixture into a fine mesh strainer over a container to catch the syrup.

Use a ladle or spoon to smash the fruit to release all trapped liquid. The syrup is best when used within 7-10 days.
Remember, don't throw away your smashed fruit; it makes for a great jam on your toast or biscuit in the morning.

Cherry Wood Smoked Spiced Pomegranate Manhattan
Ingredients
2 oz Rittenhouse Rye Whiskey
.5 oz Carpano Antica Formula Vermouth
.75 oz Pama Pomegranate Liqueur
3 dashes Old Forester Smoked Cinnamon Bitters
2 dashes Angostura Aromatic Bitters
Pinch of salt
Garnish: 2 ea. picked amarena cherries
Method
Combine all ingredients into a mixing glass or shaker full of ice and stir for 20-25 seconds. Strain the cocktail into your glass and top it with your amarena cherries.

With a pinch of shredded cherry wood chips, smoke the cocktail for 5-10 seconds.

It is recommended to have the cherries in the cocktail when this is done as it gives the smoke an organic substance to grasp onto.

When you're done smoking, remember to slide the smoke top off instead of lifting it off so as not to create a vacuum and pull out all the delicious smoke you just infused into the cocktail.

Now it's time to enjoy this fantastic cocktail's beautiful aromatics and flavors. Cheers.
Read our cocktail feature by Catersource here!