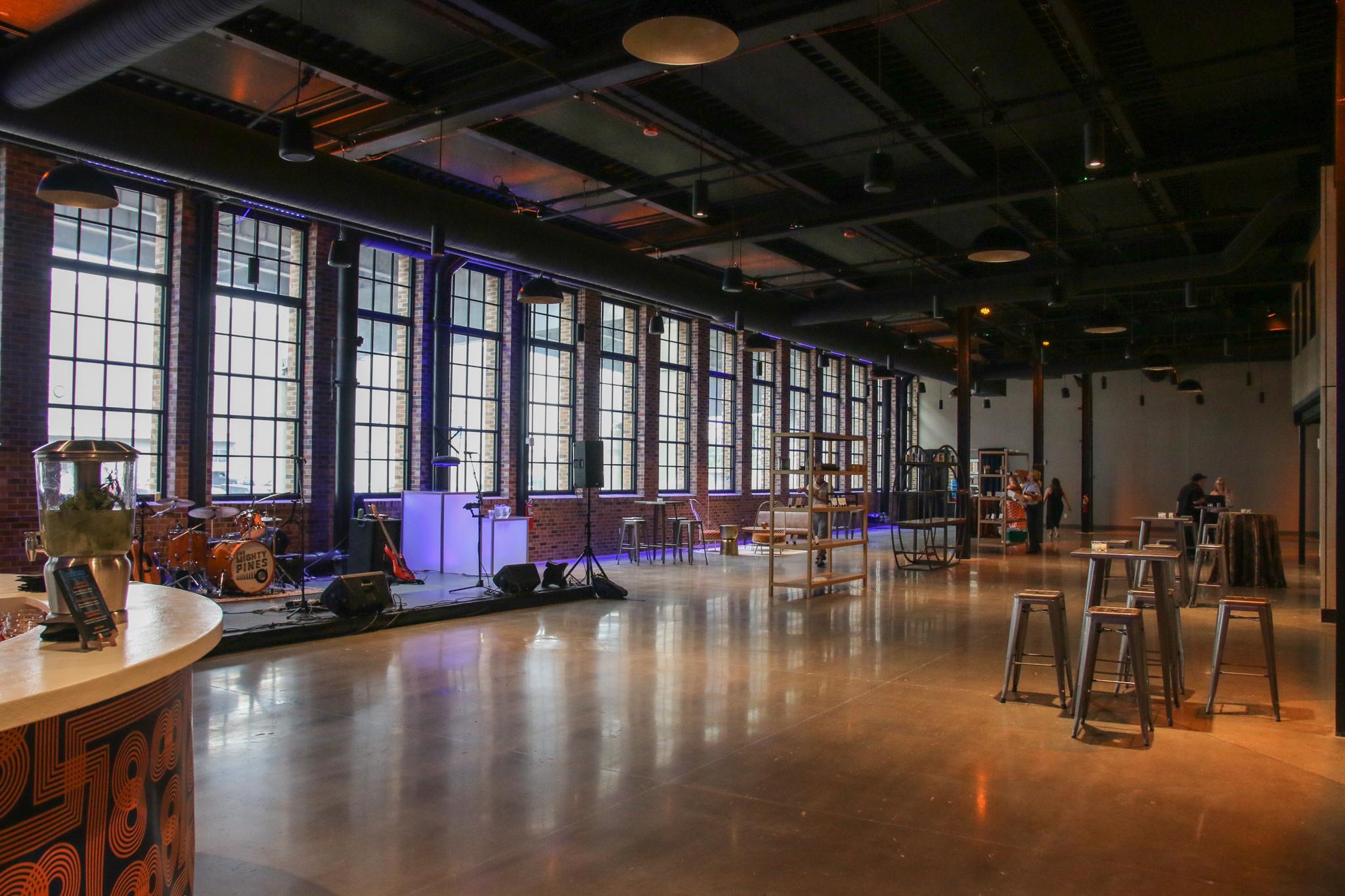 By George Mahe
18Rails, the newest event venue from Butler's Pantry, opened earlier this week at City Foundry STL in Midtown.
Along with multiple food kitchen concepts (17 of 20 are now leased), office space, a Fresh Thyme grocery store, and retail stores continuing to open, having a large-capacity event facility on site represents another major piece of the development's puzzle.
The Team
Richard Nix Jr., president of Butler's Pantry, told a group of invited guests on Tuesday night that it had been four and a half years since architect Mark Herman provided the initial inspiration for the undertaking and that despite the obvious setbacks, "we still wanted and needed to make this happen." Nix credited Will Smith, managing director of New + Found and son of City Foundry developer Steve Smith, with having the creativity and drive to see the project through.
---
The Space
Guests access 18Rails via the Food Hall at City Foundry STL, which serves as the hub of the complex. The name—officially 18 Rails | The Venue @ City Foundry STL—was chosen for its proximity to the 18 railroad lines "that came from the east and led to the west," Nix explained. "It was because of these rail lines that St. Louis truly became The Gateway to the West." Nix added that just after 1818, Saint Louis University's campus also moved to the area from downtown.
The venue, a 6,700-square-foot versatile urban/industrial space, can accommodate 390 seated guests and more than 700 for a standup affair. A bank of original windows provides abundant natural light by day and a glowing urban ambience by night. State-of-the-art audio and visual equipment have been preinstalled (eliminating a potential expense), and parking is free, convenient, and plentiful in the adjacent three-level parking garage. Treated concrete, wood grain elements, metal sheeting, exposed brick, and a state-of-the-art ceiling grid offers maximum design flexibility, along with bespoke satellite bars and food stations.
Expounding on the project, Nix says what he loves about 18Rails is that it's unique and nontraditional, from furniture to uniforms. "We've commissioned custom tables, made from wood and metal," he says, "so that clients don't need to rely on traditional linens. Following the same logic, we wanted to get away from the traditional formal uniform. The wooden bowties are just…fun! They bring an unexpected playfulness—much like we think 18Rails brings to the event scene.
---
The Background
Richard L. Nix, Sr. founded Butler's Pantry in 1966 and is credited with introducing such iconic dishes as pasta con broccoli and the boxed lunch. Now operated by Richard L. Nix, Jr., Butler's Pantry is the currently the largest caterer in the metro area, with 65 full-time employees and 300 part-timers. Butler's Pantry currently offers more than 40 preferred-status venues in its portfolio, in addition to four exclusive venues.
Nix, Jr. is the first to admit that the business has changed dramatically, especially in recent years. "Over the years, we built a solid reputation around food and service," he says, "but we felt the need to it innovate by curating an interesting, diverse, flexible beverage program." The company hired Ryan Manka, an expert with 20 years of experience, to assist beverage manager Ricky Nix III in leading that charge.
To help find qualified employees for his growing company, Nix also recently hired Kenisha Smith-Webster as senior recruiter. "In addition to her incredible experience and skill, Kenisha has been able to tap into pools of talent we never knew existed," Nix says. Since her hire, Butler's Pantry has increased its event team "by nearly 50 quality individuals since June," Nix says. "And as we look ahead—and open venues like 18Rails and The Reverie at The District in Chesterfield—expanding our event team is more crucial than ever."
At Tuesday's event, Nix praised his "dedicated team, who persevered and pivoted but remained focused." He added, "Here's to always giving our finest to every unique experience."
View the full article from St. Louis Magazine here.