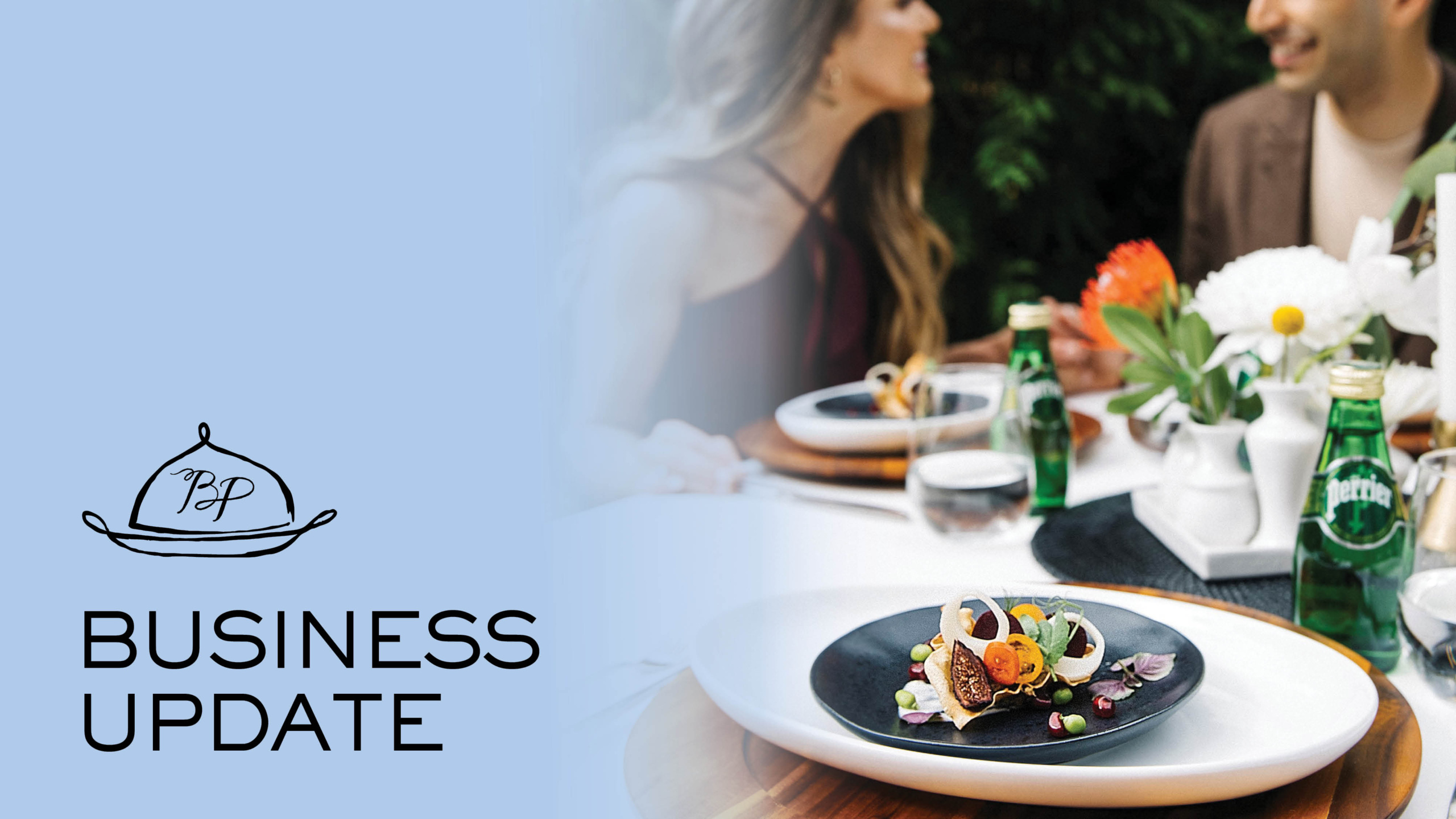 Happy New Year! As I reflect upon another challenging (yet rewarding!) year, I am overwhelmed with a sense of pride for what we were able to accomplish. I also can't help but think about my father and how proud he would be. Since his passing in September, I have found myself even more inspired by our continued focus on furthering his legacy – providing you, your guests and our business family with 'every reason to celebrate'. In 2022, we are doubling down on this mission and I can't think of a better way to honor him.
Here's how we're planning to create more moments to share, celebrate and remember.
New Menus
Did you hear? Butler's Boardroom is now a part of Entertaining Now! We've added several new menu Collections to the Butler's Pantry Entertaining Now offerings. These make corporate meetings, smaller celebrations or home entertaining easy, approachable and delicious. Featuring favorites from Butler's Boardroom, as well as new offerings — all are specifically created to allow for more sustainability, more innovation, more presentation and more flavor. View menus at butlerspantry.com/entertaining-now/.
New Venues
We are thrilled to welcome 23 City Blocks, The Caramel Room & Lumen to the Butler's Pantry family of brands! Since joining forces, we couldn't be more excited about our newly expanded team, venue portfolio and all of the opportunities that this transition brings. This is a marriage of two award-winning, highly acclaimed hospitality powerhouses and we couldn't be prouder of our all-star team!
Later this Spring, our long-awaited 18Rails | The Venue @CityFoundrySTL will officially open! This dynamic space is uniquely situated off of the Food Hall – so arrive early, stay later and enjoy a taste of STL's diverse culinary scene. The space boasts a wall of windows, flexible layout and an industrial meets steam punk design that creates a one-of-a-kind back drop for your vision. We're currently booking dates for June 2022 and beyond! View packages on our website at 18rails.com and follow us on Facebook and Instagram.
Soon to be announced, is our endeavor in West County, known as The Reverie. Situated conveniently at The District of Chesterfield, The Reverie blends Butler's Pantry's promise of service and quality with limitless creativity. Here, you can lean into your own style and together we can create the event of your dreams. Stay tuned for more information at thereveriestl.com and find us on social, @thereveriestl.
Technology
Technology will again be front and center as we continue to find innovative ways of doing business within our family of brands. Through re-imaging our websites, to building better internal systems and even in how we source and publish inspiration, you can count on Butler's Pantry to continue to grow as a leader within the hospitality industry.
Added Team Members
None of the aforementioned opportunities would be possible without the extraordinary talent we have assembled at Butler's Pantry. From Operations to Culinary, Sales to Service, Marketing to Administrative, Human Resources to Executives, we are focused on expanding our expertise in all areas. Starting this month, we are onboarding several exciting & experienced trailblazers to expand our reach in each department and in overall company culture. We welcome the 'class of '22' with open arms. We know you're going to be just as thrilled with their contributions as we are.
New menus, new venues, new technology and a continued emphasis on team is why we are anticipating 2022 to be our best yet!
Thank you for your support in 2021. WOWing our clients with amazing products, services and experiences is and will always be our trademark and driving force. As we charge ahead into 2022 – grateful for what we've been through and inspired by what lies ahead — we wish all health, happiness and success.
All The BEST- Rick