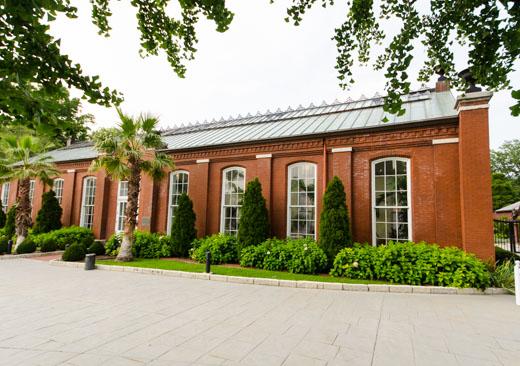 If There's One Thing St. Louis and its Residents Know How to Do, It's How to Throw a Party
So it's time to celebrate, but where? If you are trying to think outside the ordinary, try imagining a place that is full of light, history and romance highlighted with stained glass and located in the heart of St. Louis. Butler's Pantry is proud to be the exclusive caterer at just such a place: the Piper Palm House located in Tower Grove Park.
With its distinctive architecture, soaring ceiling and stately windows, the Piper Palm House is the perfect venue for any social gathering, whether it's a wedding or rehearsal dinner, engagement party, birthday, graduation, promotion or any other celebration. Constructed in 1878, the Palm House is the oldest standing greenhouse west of the Mississippi River and the most historically significant building in Tower Grove Park.
The space may be utilized for a variety of functions, including sit-down or cocktail dining, ceremonies, dancing, meetings and even our delectable Sunday brunch at Café Madeleine. The indoor seating capacity of the Piper Palm House is a comfortable 150 with use of the provided round tables and chairs. Outside the front doors, visitors can enjoy the newly refurbished Stupp Plaza, which overlooks beautifully landscaped lily ponds. Hosts can welcome more guests with combined use of the building and plaza. The recently enhanced carriage service can be combined with a Piper Palm House event for an enjoyable and unusual treat.
Comparable to the Kensington Orangery in London or the Pavilion du Lac at Parc Buttes-Chaumont in Paris, the Piper Palm House provides an ambiance unlike any in the region. Begin creating your event today by contacting Butler's Pantry.