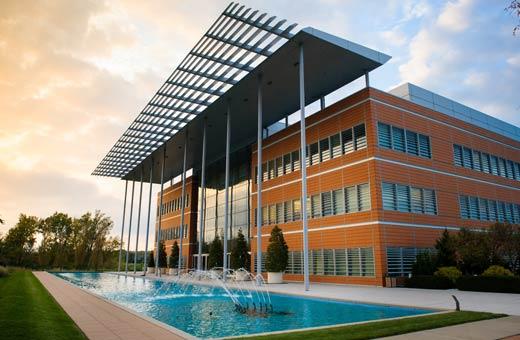 The Danforth Center's State-of-the-Art Research Center Offers Innovative Spaces That are Modern and Elegant
Designed and developed by Nicholas Grimshaw & Partners of London, England and Hellmuth, Obata and Kassabaum of St. Louis, Missouri, rooms here can easily be transformed to suit anything from daytime meetings and luncheons to an evening affair with style and sophistication, all within a unique setting.
The open design of the McDonnell Atrium makes it a popular site for luncheons, receptions, dinners and various civic events. During the warmer months, the Miller Terrace can be used in conjunction with the Upper Atrium.
Our auditorium and conference rooms, which are staffed by our on-site audio-visual specialist, have hosted award presentations, speaker series and seminars. The McDonnell International Gallery, located adjacent to the AT&T Auditorium and conference rooms, provides a welcome gathering place for receptions before and after an event.
Overlooking the Kemper Water Garden on the third floor is the Board Room. In addition to formal meetings and presentations, the Board Room is the ideal location for private luncheons and dinners.
The Donald Danforth Plant Science Center has the accommodations, service and quality you desire for your corporate meetings, gatherings, social events and nonprofit galas. We invite you to schedule an appointment and visit the Center today.
The Donald Danforth Plant Science Center is an independent not-for-profit research institute with a global mission to improve the human condition through plant science. Scientists at the Danforth Center are engaged in research that will contribute to feeding the hungry, improving human health, preserving and renewing the environment and enhancing the St. Louis region and the state of Missouri as a world center for plant science.