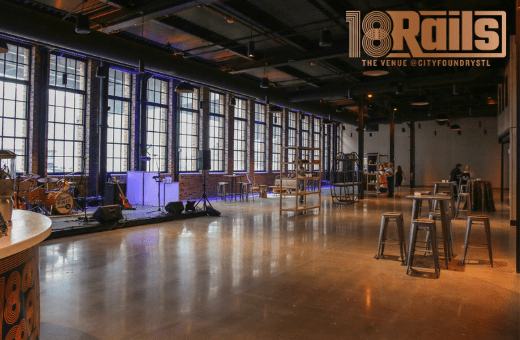 18Rails | The Venue @CityFoundrySTL was once the center of industrial activity, sitting near a hub where 18 rail lines connected St. Louis to the rest of the country. Previously functioning as Century Electric Company, this space has maintained its industrial roots, but features modern aesthetics and conveniences. Electricity changed everything and that's what this venue stands for—advancement, innovation and originality.
The Entrance | Surrounded by the new, must-see public market — City Foundry STL, guests enter the space directly from the food hall. Arrive early…stay later…regardless, you are guaranteed to catch the true essence of St. Louis when attending an event at 18Rails | The Venue.
The Room | Take in authentic St. Louis culture upon arrival, and be welcomed to a chic-industrial event space with an entire wall of windows — providing visual interest and natural lighting. This room can accommodate up to 300 seated and 700 standing.
The Possibilities | Planning a special event reveal? Needing a separate space for cocktails? Our 6,700 square feet of space can be converted into a variety of ways to accommodate for any event-style you desire.